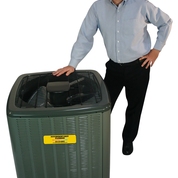 While summer has not yet arrived in Pittsburgh, the end of winter means that it is definitely on its way. Once summer is officially here, you rely on your air conditioner to keep you comfortable indoors. But before the temperatures start to rise and you are dependent upon your air conditioner, contact Pittsburgh's Best Plumbing, Heating & Air to schedule an appointment for a maintenance checkup on your HVAC unit.
Having an A/C tuneup ensures that your air conditioner will be ready and operating at peak efficiency when you most need it, however, there are some steps that you can take on your own to get your unit ready for the summer season:
Change your filters – It is recommended that you change your air filters every one to two months, depending on the number of people in your home and whether you have pets. Dirty filters collect dust and allergens, which can affect your health as well as your air HVAC unit. Be sure that you are using the right filter in the right size. If you are unsure as to which filter would work best for your unit, the professionals at Pittsburgh's Best Plumbing, Heating & Air will be happy to advise you during your yearly maintenance checkup.
Check the area around your A/C unit – Plants that are located around your outdoor unit can affect your system's performance, especially when they grow more dense. You want to make sure that the area around your A/C unit is clear and free of debris. Air conditioning units that are surrounded by shrubs or plants may not receive the right amount of cool air flow to function properly.
Check your thermostat – Your thermostat is important to regulating the temperature in your home. If it is not functioning properly, it can result in a huge waste of energy as well as higher bills. Consider having a smart thermostat installed – it will allow you to remotely adjust your temperature, which can result in even more energy savings.
Regular maintenance on your air conditioning unit in Pittsburgh can make it up to 30 percent more efficient, save you money on energy bills, and ensure that you are comfortable throughout the summer season. The experts at Pittsburgh's Best Plumbing, Heating & Air proudly serve both residential and commercial clients throughout Coraopolis, Cranberry, Northern Pittsburgh and the Airport area. Don't wait until the season starts to find out if your air conditioning is ready for summer – contact us today and find out why we're Always Your Best Choice!