Vegetation Near your A/C
Your A/C unit is crucial to surviving the hot summer months in Pittsburgh. While your outdoor
air conditioning unit is busy doing its job to ensure the air inside is cool, many homeowners try to conceal the unit by planting landscaping around it. If you are planning on doing some planting around your air conditioning unit, or currently have vegetation surrounding it, here are a few im-portant things you need to know:
Keep the ground that surrounds your air conditioning unit covered. Soil and sand can be sucked into the A/C unit when it is running. Mulch, gravel, or landscaping covering is the best material to put around your A/C unit.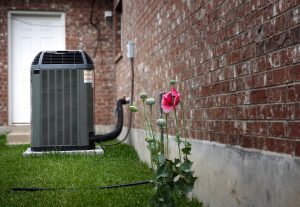 Be sure that all vegetation is placed away from the unit. The ideal clearance for planting around an air conditioning unit is two to three feet. In addition to preventing proper airflow, plants that are too close to the unit can be sucked into the unit and cause performance issues and/or damage.
Be mindful of the plants surrounding your A/C unit. Plants that creep, such as ivy, or hedg-es with branches that can expand too close to the unit should be avoided, or trimmed when necessary.
Do not place container plants on top of the air conditioning unit. When the unit is running, the vibration can cause the plants to bounce off, and possibly into the unit, where they will be sure to cause damage.
For air conditioning sales, service and repair, be sure to contact the experts at Pittsburgh's Best Plumbing, Heating and Air. We offer professional HVAC check-ups and maintenance services to our customers in Pittsburgh and the surrounding area. When it comes to ensuring that your equipment is running safely and efficiently, We're Always Your Best Choice!