Preventing Plumbing Emergencies
A plumbing emergency can not only prove costly, but have a significant effect on your home life. Whether it is a frozen pipe or a major leak in your pipes, certain plumbing emergencies require the immediate attention of a trained plumbing professional. However, there are several steps you can take to ensure that your plumbing remains in good working order, such as drain cleaning and leak detection services, which can help reduce the possibilities of future emergencies. Common plumbing emergencies include:
Clogged Pipes and/or Drains
Clogging can occur when plants crack through to the pipes or foreign objects enter the drain. Once clogging has been detected, it is vital to act quickly to remove whatever is causing the blockage, or else your system will become backlogged with water.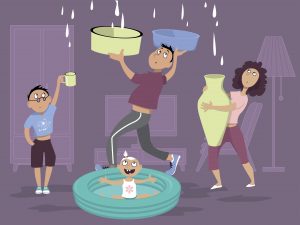 A plumbing professional will have the tools necessary to clear the blockage. Attempting to remove it yourself can cause further damage to your pipes. Common causes of drain/pipe clogs include:
Kitchen grease
Hair
Soap scum
Solid household objects
Frozen Pipes
Frozen pipes are a serious emergency that occurs during the cold winter months. Pipes can freeze, with the water expanding until the pipes burst, an expensive plumbing emergency. If any sections of pipe are exposed to the outdoors, ensuring that they have proper insulation will help to reduce the chances of them freezing.
Leaking Fixtures
While a few drips of water dripping from a faucet may not seem like a serious emergency, it can actually result in the loss of hundreds of gallons of water, which can significantly affect your water bill. In addition, a leak anywhere is a sign that there is a problem, which, if not addressed, can lead to a bigger and more expensive emergency.
Pittsburgh's Best Plumbing, Heating and Air has the tools and the experience to handle any plumbing issues, from a leaking faucet to a complete video inspection of your drain lines. Don't wait until your plumbing problems become plumbing emergencies! Call Pittsburgh's Best Plumbing, Heating and Air today, and we'll be happy to schedule a visit – and remember, we're Always Your Best Choice!